iPad App for the Toyota Recruitment application process
Details
Compay Name: TOYOTA Motor Manufacturing (UK) Ltd
Date: Jan 2018
Website: recruitment.toyotauk.com
When the recruitment team at Toyota Motor Manufacturing asked us to develop a new iPad app we jumped at the chance.  The recruitment team at needed the app which is easy to use and navigate. So we had to make the app as user friendly as possible.
iPad app development
The iPad app was to be used when the Toyota recruitment team visit a job fair. The app is used to collect contact information from interested applicants for Toyota's recruitment schemes.  Candidates who may be interested in working for Toyota fill in a simple form on an iPad with their contact details.  All of the applicant information is saved onto the iPad until the team gets back to the office. Then all the potential candidates' details are saved to the recruitment system database. When a recruitment program is due to start, the candidates are notified via email. Thus the applicants are able to apply for a job by accessing the recruitment website.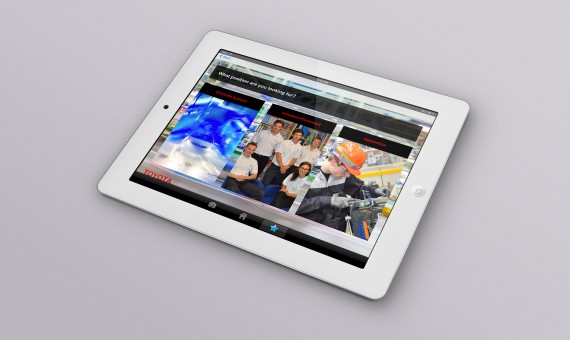 What we did
We worked closely with a team from Toyota to create a prototype to test concepts and ideas out with the people who would use the finished app before we started building it. We wanted to create an app which was easy for both the recruitment team and potential candidates to use on iPads.   The app was built in iOS and is easy to use for the candidate and manage by the Recruitment team member.  We used the latest technology to created the app and regularly update it to ensured that all of the candidates information is safe and secure.   The iOS app seamlessly integrates the candidate information with the Toyota recruitment database, also created by our company, Haywyre.  This enables the recruitment team to effectively promote graduate recruitment campaigns to a wider audience.
This has greatly improved the graduate application efficiency and significantly cut down on paper work for the recruitment team. Using the app also means that any recruitment campaign will be promoted to a wider audience  This results in a good selection of potentially high quality applicants for Toyota Motor Manufacturing.
We created a unique iOS app for Toyota which has helped to significantly improve their recruitment process.