iPad App for the Toyota Recruitment application process
Details
Compay Name: TOYOTA Motor Manufacturing (UK) Ltd
Date: Jan 2018
Website: recruitment.toyotauk.com
When the recruitment team at Toyota Motor Manufacturing approached us to develop a new iPad app, we eagerly seized the opportunity. Our primary goal was to ensure the app's user-friendliness, and we delivered one which was easy to use and navigate.
Toyota Recruitment iPad app development
The purpose of our iPad app was to assist the Toyota recruitment team during job fairs. It efficiently collected contact information from potential applicants interested in Toyota's recruitment schemes. Candidates filled in a simple form on an iPad, storing their details until the team returned to the office and transferred the information to the recruitment system database. Subsequently, candidates received email notifications when a recruitment program began, enabling them to apply through the recruitment website. The app streamlined the application process for both the recruiters and the potential new hires, ensuring Toyota got the right people for the job.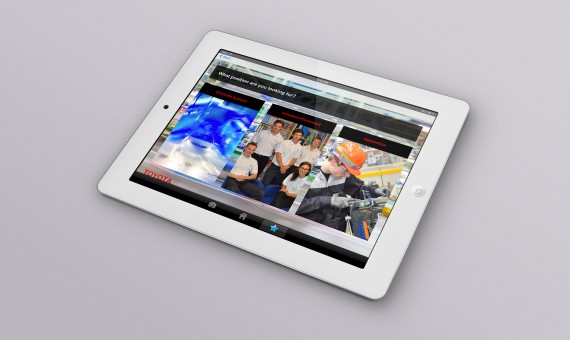 Our Approach
We collaborated closely with Toyota's team, designing a prototype and testing concepts with actual users to ensure user-friendliness for both the recruitment team and candidates using iPads. Developed with the latest iOS technology, the app provided ease of use for candidates and simple management for the recruitment team. Regular updates ensured the security of all candidate information. Integrating the iOS app with the Toyota recruitment database, also developed by Haywyre, enabled the recruitment team to effectively promote graduate campaigns to a wider audience.
The Outcome
We created a unique iOS app for Toyota which has helped to significantly improve their recruitment process. The app has greatly improved the graduate application efficiency and significantly cut down on paper work for the recruitment team. Using the app also means that any recruitment campaign will be promoted to a wider audience  This results in a good selection of potentially high quality applicants for Toyota Motor Manufacturing.
More for Toyota
Throughout our longstanding partnership with Toyota, we have delivered software development solutions for various projects, including: