Toyota Motor Manufacturing UK Website
Details
Compay Name: TOYOTA Motor Manufacturing (UK) Ltd
Date: 2001
Website: toyotauk.com
toyotauk.com is the corporate affairs website for Toyota Motor Manufacturing in the UK. Haywyre has been developing and supporting the Toyota web presence for many years. We regularly redesign and add to the website to showcase Toyota's work. 
Toyota Motor Manufacturing Website
There are two Toyota manufacturing plants in the UK, one based in Burnaston in Derbyshire and one in Deeside in North Wales. They employ approximately 3,800 people and build cars which are sold around the world.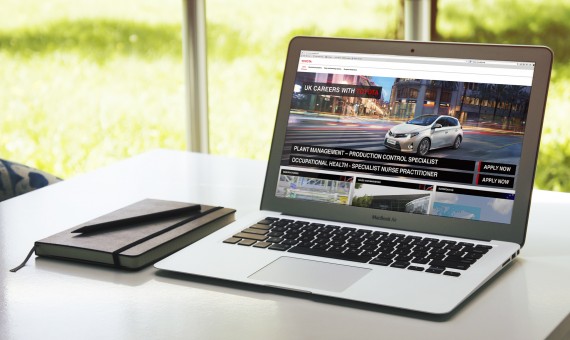 Our Approach
Working closely with several departments within Toyota, we have developed a range of custom software solutions to showcase various Toyota project. Most recently, we have been looking at developing the visual aspects of the site, creating several new page components to for the numerous pictures and videos celebrating Toyota's work in the community. 
2019 Website Redesign 
In 2019, we dedicated our efforts to updating the Toyota Website, with a strong focus on enhancing its aesthetics and user experience, especially for mobile devices. We also prioritised customer accessibility by implementing a user-friendly content management system, empowering Toyota staff to effortlessly update content, images, and files on the site.
Public Visit Toyota Website
You can find out more about how Toyota Manufacture cars by visiting Toyota. The Public Visit system update enables members of the public to book a visit to the factory via the website. The Corporate team can access and approve applications via the website and notify potential visitors of new visit dates and successful visit applications. This update has streamlined the application process. Not only has it made it quicker and easier for visitors and staff, it has also reduced paper work significantly. Click here to find out how to book a visit.
Toyota Recruitment Website
We ensure regular updates to the Recruitment Website, benefiting both Toyota staff and job seekers. The most recent update enabled the staff at Toyota to add and edit vacancies on the website. Job applicants can conveniently apply online through the Toyota recruitment website, and the recruitment team can access and score the applications within the site, helping them filter out suitable candidate. You can check out the latest vacancies at recruitment.toyotauk.com, or learn more about the corresponding iPad app Haywyre developed for Toyota Recruiment here.
The Outcome
Haywyre helps Toyota stay ahead with regular evaluations and designs of the website, adapting to shifting market trends and customer preferences. This proactive approach ensures the website remains relevant and continually caters to the evolving needs of Toyota's customers. This continuous involvement allows Haywyre to actively keep up with accessibility requirements and maintain a strong focus on online security.
More for Toyota
Throughout our longstanding partnership with Toyota, we have delivered software development solutions for various projects, including:
Successfully creating and managing the

 

Toyota Lean Management Centre

 

Shopify account, providing a seamless custom online shopping experience.
Creating an iOS app which integrated with the Toyota recruitment database to streamline job applications.