Haywyre launched a new iOS and android app for the 3rd Burton Ale Trail, and improved it for the 4th!
The Burton Ale Trail is a popular twice-yearly event which see visitors from across the UK flock to Burton's best pubs. Haywyre developed an interactive iOS and android app to enhance the September 2022 Trail. It featured: 
A map of all the participating pubs,
Information about the available ale and food, entertainment and opening hours of each pub,
News about the Ale Trail, which is regularly updated before, during and after the trail,
QR codes to track your process with beautiful badges,
And of course links to Drinkaware. Advocating sensible drinking was a crucial aspect to the app development brief.
Check out the app at the App Store and Google Play. And if that doesn't convince you enough, completing the trail gets you entered into a draw to win beer at the next event! See you on the next trail in September 2023!
Haywyre is committed to self improvement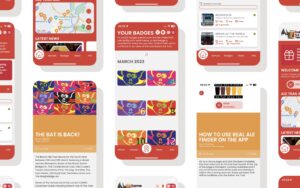 When making the original app for the Burton Ale Trail, we built upon our work with previous trail apps. Having come back for the 4th Burton Ale Trail, we had the opportunity to reflect and improve on the last instalment. We introduced new features and tweaked those already deployed to ensure a smooth run for the March 2023 Trail.
Several important updates were made in the most recent instalment of the Burton Ale Trail app including: improved user experience, such as enhancing the layout of the venue screens. We also updated the registration process to improve ease of use and access for users, enabling the user to claim rewards more easily.
Users had to unlock venues with new QR codes to gain new badges (and entry to the grand prize draw where the winner receives free beer!) without losing the badges they collected from the previous Ale Trail. 
After downloads exceeded expectations last time we had to ensure that this year the app was ready for an even bigger turn out. We had a total of 926 users, and this year we did not receive a single late night call out that the app was down!
We improved the interactive map feature to ensure that all the amazing local pubs could maximise footfall. This was especially important for some of the older, quirkier pubs which are hidden way from non-locals.
The intergration of the Real Ale Finder, which enabled users to access live information about the types of real ale available at each venue.
A thank you to the users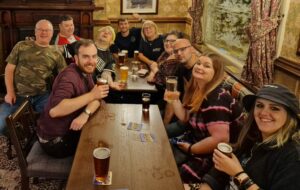 This Trail we got a total of 926 users, including the Burton Beer Running Club. An impressive 66 of these users managed to complete the Trail with a drink in each bar (over the course of several days!), with a special shout out to the 14 people who completed both the September and the March trail.
A celebration of Burton, local businesses and real ale
Burton Ale Trail was a huge success for independent local pubs. Organised by local brewery historian and author Ian Webster, it showcased Burtons's thriving independent brewing scene. The pubs involved in the trail reported increased sales and footfall, and many said that they had seen new customers who had never been to their pub before. The Burton Ale Trail is a great example of how events can be used to support independent businesses and promote local tourism.
And lets not forget the star of the show; real ale. Burton Ale Trail saw many of the pubs offering additional beers to tempt you in. Not only is real ale tasty, with a fuller flavour and aroma compared to lager, but it is also linked to several health benefits. Moderate ale drinkers have been shown to have reduced risk of heart disease, stroke, and dementia, and improved bone and kidney health.*
* It is important to note that these are just potential health benefits, and more research is needed to confirm them. Additionally, it is important to drink real ale in moderation. Excessive alcohol consumption can have negative health effects, so it is important to drink responsibly. Check out Drinkaware for more information. 
Looking forward
Projects like this, where we get to develop and review past projects, are a fascinating and rewarding part of working at Haywyre. And it's always a bonus when we get to cultivate and celebrate the history of Burton-on-Trent, where our company is based. 
Talk to Us
If you want to know more about how we can help move your business forward.