iOS and android apps developed for UK art trails
Details
Compay Name: Making Trails
Date: 2019
Website: www.makingtrails.co.uk
Making Trails create public art sculpture trails in the UK. By designing unique regional art trails, Making Trails aims to raise awareness of the profound benefits of art in public spaces, enticing more visitors and boosting interaction. Each trail showcases numerous art installations, accessible through specialised iOS and Android apps developed by Haywyre. These user-friendly apps not only help visitors locate sculptures but also provide additional information at key points along the trail, enhancing the overall experience.
Making Trails iOS and Andriod apps 
Making Trails launched their first sculpture trail in 2020, called Burton Swans. For this trail, they enlisted the expertise of Haywyre to develop an innovative iOS and Android app. This interactive app complemented the physical sculptures, enriching the trail experience and providing visitors with valuable information about the sponsors and artwork at each location.
Building on their initial success, Making Trails went on to launch two more projects in 2022: the captivating North Notts Nectar Trail and The Big Burton Carousel. Each project has required its own personalised app to support the trail. These apps became an important tool in quantifying the success of the trails in increasing footfall and visitor numbers.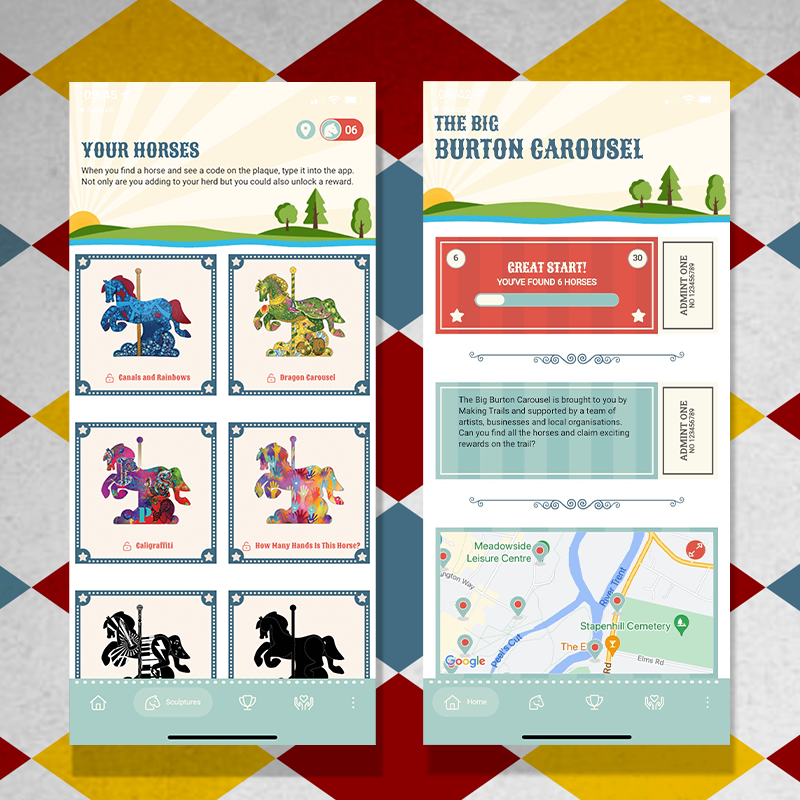 Our Approach
At Haywyre, we were thrilled to be entrusted with the task of building and designing bespoke iOS and Android apps for each of the captivating sculpture trails launched by Making Trails. Our mission was to ensure these apps provided an exceptional user experience and seamlessly ran on Apple (iOS) and Google (Android) smartphones, available for free download from their respective app stores.
Our primary goal was to make the apps easy to use while offering an interactive element for trail visitors. The app's main function was to guide visitors with a user-friendly map, ensuring they could locate all the sculptures effortlessly. An exciting and interactive aspect was incorporated by allowing visitors to type a unique four-digit code found on each sculpture into the app. This unlocked additional information, messages, or rewards, adding to the visitors' engagement and delight.
Ease of use was important, and each app was specifically designed to resize for a variety of devices. Strong GPS mapping was crucial in making sure that the map was accurate, and users were correctly signposted to accurate locations.
To keep the content fresh and up-to-date, we developed a dynamic database, enabling live updates throughout the trail's duration. This ensured that visitors always had access to the latest information and offerings.
Prior to going live, our dedicated team conducted extensive testing to ensure every element of the app worked flawlessly. With usability as a primary focus, we ensured that all features seamlessly provided visitors with accurate information and a delightful interactive experience.
As each sculpture trail had slightly different requirements, we used our extensive knowledge across all trails to create a consistent brand experience for Making Trails while personalising the functionality of each app to suit the specific trail. The app's evolution is an ongoing process as we constantly work on introducing new functionalities and collaborating closely with the Making Trails team to enhance the overall trail experience.
THE OUTCOME
With thousands of app downloads for each project, Making Trails has successfully empowered visitors to explore and navigate the captivating sculpture trails like never before. These apps have not only facilitated seamless exploration but also provided invaluable data to gauge the positive impact of these trails in various locations. By tracking visitor numbers and origins, the apps have enabled Making Trails to substantiate the trails' success, serving as a valuable tool for future projects.
The overwhelming positive feedback from trail commissioners and visitors alike highlights the app's significance in quantifying success and supporting the growth of future endeavors. Our ongoing partnership with Making Trails has allowed us to continually evolve the app technology while maintaining the company's consistent brand identity.
We are excited to continue working with Making Trails on future projects and are currently looking at ways to enhance the interaction capabilities to bring even more engagement to the trails. This makes sure that each trail feels fresh, and apps continue to build their interactivity to encourage visitors to visit time and again to Making Trails event.
Tilley Bancroft, managing director of Making Trails, said:
"Having an interactive element to our trails has been a huge asset for us. It provides a gamification element to encourage interaction. Haywyre's expertise and knowledge has been invaluable in making that possible. From the start the team took the time to understand what we needed and year on year continue to increase our offer and evolve the app. Feedback from both users and trail commissioners has been extremely positive and the app provides a unique interactive element to our offer while also providing the ability to easily quantify success. The app is certainly a huge part of the unique offer and success of our trails."
More for Making Trails
In 2020 Haywyre created the project website and an interactive iOS and android app for the Burton Swans art trail