App Developed for Rina Training
Details
Compay Name: Rina Training
Date: Jan 2018
Website: rina.org
We have recently created a desk top app for Rina Training. Rina is a course provider for the API Exams.  The API exams are taken by engineering inspectors working in the petroleum industry.  Recently the API exam provider had moved from paper to computer based exams.
Computer Based Testing for Mock Exams
 The team at Rina wanted to send their course delegates into the exams feeling confident about the use of this new technology on exam day.  So the brief was to create a computer based mock exam to be used as part of the Rina API training courses.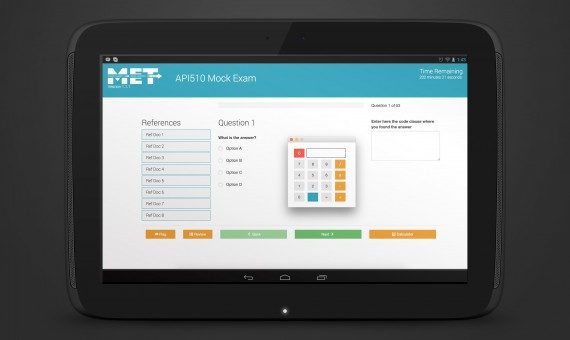 We decided that the best way to do this was to build an app.  User friendliness was the biggest priority and the Chrome App had to be designed with this in mind. Users take the mock exams using a Chromebook which has been uploaded with the most recents update of the app.  The delegate accesses the mock exam offline. This was crucial to ensure that candidates could not access any online resources during that timeframe. As the exams are open book, the delegate was able to access approved documents used in the exam by using the built in pdf viewer. Therefore each delegate has an authentic API exam experience. 
The Mock Exam App is very easy to update with improvements by uploading updates app via the Chrome web store.  The Chome books are then connected to the store and the updated within  minutes.  We have developed tree different mock exams within the app. All of which have been well received.
Contact us to find out how we can help you move your business forward.
Feedback from Candidates and Rina Training
Feedback, from candidates on training days, has been very positive. Candidates have said that the app is very easy to use and navigated.  Hence we are proud to say that the mock exams have been a success with the majority of the candidates going on to pass their exams. As a result the Chrome App has helped trainees to enter the API exam with confidence.
Rina are delighted with the application, due to its ease of use, simplistic design and quality of finish.