App Developed for Rina Training
Details
Compay Name: Rina Training
Date: Jan 2018
Website: rina.org
Haywyre created a desk top app tailored for Rina Training, a renowned course provider for the API Exams. These exams are essential for engineering inspectors operating in the petroleum industry. As part of the modernisation process, the API exam provider transitioned from traditional paper-based exams to computer-based exams. Our customised desktop app proved instrumental in facilitating this transition, providing a seamless and efficient platform for candidates to take their API exams.
Computer Based Testing for Mock Exams
The team at Rina wanted to send their course delegates into the computer-based API exams feeling confident. To achieve this, Haywyre developed a computer-based mock exam as an integral component of the Rina API training courses. This interactive mock exam effectively prepared candidates for the real exam day, ensuring they were well-acquainted with the technology and fully ready to excel in their API exams.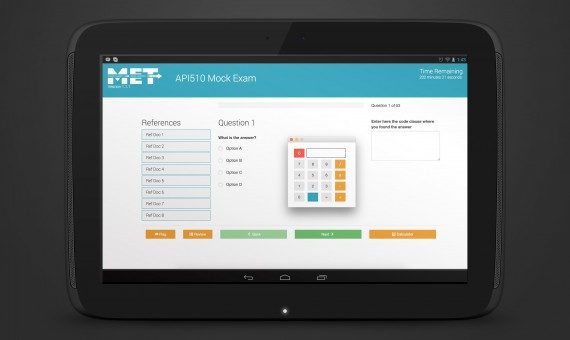 Our Approach
When tasked with providing Rina's course delegates with a seamless and user-friendly experience for their API mock exams, we decided that the best solution would be to build an app. Our primary focus was on user-friendliness, ensuring that candidates could confidently navigate the mock exams using a specially designed Chrome App.
Each delegate accessed the mock exam offline on a Chromebook, equipped with the latest version of the app. This offline capability was vital in preventing access to any online resources during the exam, maintaining the authenticity of the testing environment. As the API exams are open-book in nature, the app integrated a built-in PDF viewer, enabling delegates to access approved exam documents effortlessly.
By utilizing the Mock Exam App, each delegate underwent an authentic API exam experience, simulating real-world conditions and enhancing their preparedness for the actual exams.
One significant advantage of the app was its simple update process. We designed the app to be easily updatable by uploading improvements through the Chrome web store. Chromebooks connected to the store automatically received the updates within minutes, ensuring that the app remained current and maintained optimal performance.
Within the app, we developed three different mock exams, each tailored to the unique requirements of the API exams. This versatility provided delegates with a comprehensive preparation experience, further enhancing their confidence and readiness.
THE OUTCOME
The Mock Exam App has been a resounding success, receiving overwhelmingly positive feedback from Rina's course delegates and instructors. Its intuitive design and offline accessibility contributed to its wide acceptance and ease of use. During training days, candidates expressed great satisfaction with the app's user-friendly interface and smooth navigation, leading to a majority of them passing their exams with confidence. Rina is delighted with the app's simplicity, ease of use, and design quality. The Mock Exam App has become an indispensable tool in Rina's API training courses, empowering candidates to excel in their API exams with confidence.