Website and iOS and andriod app for Burton Swans art trail
Details
Project: Burton Swans art trail – iOS and andriod app
Date: August 2020
Website: burton-swans.co.uk
Burton Swans was East Staffordshire's first outdoor, public art trail, staged in Burton Upon Trent for 10 weeks between August and October 2020.  We created the project website and an interactive iOS and android app for the trail.
Overview

Tilley Bancroft, director of Making Trails came up with the idea of a public art trail for Burton Upon Trent in 2018. We were delighted to be approached to create the project website and an interactive iOS and android app for the trail.

A total of 25 super-sized swan sculptures were created and artists were invited to submit design ideas. Local businesses and organisations came on board to sponsor each swan.

 

The idea was to create a memorable, fun experience for residents and visitors. The trail could be walked in one day, giving vistors the chance to enjoy the outdoors, get exercise and enjoy unique public art.

The pandemic lockdown delayed the trail, but it went ahead in August 2020 with social distancing guidelines communicated through the website and app.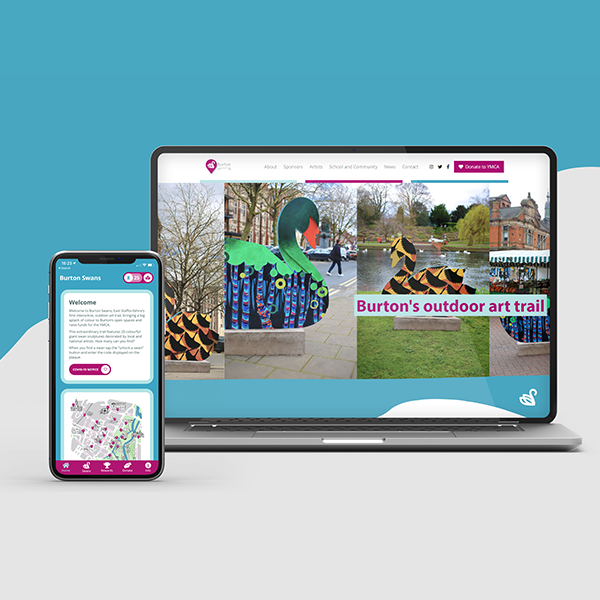 The website
The brief was to create a Burton Swans website that fulfilled four main purposes: encouraging local businesses and organisations to become swan sponsors; encouraging artists to submit designs; raising awareness that the trail was coming and how people could visit and finally encouraging schools and community groups to get involved with an art-based cygnet project.
As the project progressed, the website needed to showcase the artists whose designs were chosen and the businesses and organisations that became sponsors. It also gave information about the charity partner, Burton YMCA, and how they would benefit through the 'swan song' auction when the trail ended.
Trail information including the new app, with links to the Apple and Google Play store, a trail map link was also included.
We were also asked to build an iOS and android app for the swan trail. The app had to run on Apple (iOS) and Google (Android) Smartphones and be downloaded free from their respective app stores.
The main functionality of the app was:
Users could locate the swans through a user-friendly map.
When they found a swan, they could type in a unique four-digit code that was on the swan's base and which would unlock more information, a message, or a reward from its sponsor.
Information about the sponsors and the artists was included.
The app kept track of how many swans the user had visited, the rewards collected and which ones were still to be visited
Users could donate easily and quickly to Burton YMCA, the project's chosen charity.
Social distancing guidelines and other essential info was included.
Testing this app was particularly enjoyable for us as we spent an afternoon walking around the green, open spaces and streets of our hometown and visited the sites chosen for the swans.
Many events had to be cancelled because of the pandemic, including some public sculpture trails in other UK cities, but the team behind Burton Swans committed to going ahead to bring a safe, colourful, outdoor activity into people's lives. This also meant that the swan sponsors and artists gained valuable publicity and the YMCA was able to benefit from the auction in a year when many of the fundraising activities it relies on were cancelled.
The swan trail was a great success with positive feedback across online and social media. Many people made and posted own videos of their adventures on the trail. Families were engaged by the idea of 'collecting' swan codes on the app.  Many people said they would be sorry to see the swans go.
The app was very successful, with over 2000 downloads and visitors from all over the wider Midlands area. Users commented that it was easy to use and enhanced the trail experience.  We acted on user feedback and made small updates early on to improve the experience. This included changing the map marker colour from pink to green once a swan had been unlocked.
Tilley Bancroft, Project Manager of Burton Swans, said:
"We asked Haywyre to design and build both our website and app using a loose brand style that we had begun to create. They delivered a stunning website and app for us which has been incredibly well received by everyone who has used them. Haywyre were so easy to work with; knowledgeable, patient (when I couldn't quite explain what I wanted), helpful and extremely professional.
I have loved working with the team and wouldn't hesitate to use their services again."
Contact us to find out more.