The Trophy challenge
Trophy Pet Foods is an online pet food and franchise business that has recently shifted its technology landscape quite significantly.
"Taking the organisation forward I wanted to make sure that we are a fresh, digital-ready enterprise, in a permanently strong position, with our own bespoke system"  said Matt Snell, managing director. We needed a technology partner to make this happen.
The three-click challenge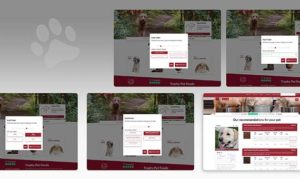 Staffordshire-based Haywyre is Trophy's technology partner – the company who accepted the three-click challenge and transformed the online customer experience. Haywyre's team has worked with Matt to develop the platform over the past two years. Customers can now place an order quickly and easily, getting to the right place within three clicks instead of the previous journey of thirteen! This is just one of many improvements provided by Haywyre.
Online orders are up 20% since the new system was launched. Matt attributes this partially to the increased market – according to the BBC, the UK bought a staggering 3.2 million pets during lockdown – but also because the website is more inviting, engaging and 'stickier'. This refers to the length of time people spend on the site which has a direct correlation to the level of sales. Conversion rates for visitors to the site are also much higher. They spend longer on the site which has led to a higher number of transactions.
Tip of the ice-berg
"What you can see in terms of our shop window is just the tip of the ice-berg" explained Matt. "Trophy Pet Foods have some really cool stuff going on – AR and other projects. We expect to be working with Haywyre for a long time. We went to them for a real solution, to enable us to gather intelligence from our system, focus on analytics, provide a gateway for social media and functional CRM as well as provide a really good customer experience."
Getting to know  your technology partner
Trophy is a forward looking company, offering its products directly or via a growing network of franchisees who operate throughout the UK. Paul Hudson, MD of Haywyre and the team took the time to get to know how the business operates before committing to developing a new system. "I'd say the guys immersed themselves in our business" said Matt. "We have ended up with something that is 100% bespoke and ready for the future. It is a truly flexible business hub."
"We analysed all the processes involved in the business and removed many of them through automation" explained Paul. "We added a product finder, allowed visitors to book a consultation with a franchisee, provided the user with a record of their pet's information and order history, integrated the system into the existing stock system using an API and meshed the whole thing with Google and Facebook – and we're looking at other options as well. SEO has been a priority and is now paying off in terms of much improved Google rankings. It's been an interesting and exciting challenge but so rewarding" he finished.
Looking ahead
The system allows the Trophy team to make confident decisions based on real information. "I'd say they've nailed it" said Matt "but that's not to say we're done here. We will continue to work together with Haywyre as our trusted technical partner, engineering our technology to reflect our current practices and make sure we're ready for the future."
Contact us to find out how we can help you move your business forward.