BNP Paribas Personal Finance web development partnership
Details
Compay Name: BNP Paribas Personal Finance
Date: March 2021
Website: creation.co.uk, bnpparibas-pf.co.uk
BNP Paribas Personal Finance is the power behind some of the UK's best-known high street brands through its consumer arm, Creation. It provides a range of retail finance, credit cards and loans to over four million customers on behalf of more than 200 organisations. It is a 100% subsidiary of global banking group BNP Paribas, one of the strongest banks in the world. Haywyre has been a web development partner, developing and support the Creation web presence since 2001.
Overview
Creation Financial Services provide credit cards for retail partners and loans for on-line customers. Creation Consumer Finance manages retail finance for larger purchases. BNP Paribas PF finances £1.4 billion in customer balances. They employ over 740 people across two sites in the UK.
Haywyre's web development partnership with the founding companies behind the brand dates back to 2002. When online banking was still in its infancy, we launched a customer-facing website duet.co.uk. Subsequently we created the rebranded customer website, creation.co.uk. We have updated and maintained this site ever since.
In March 2021 we implimented a major overhaul of the B2B website, bnpparibas-pf.co.uk, improving the site design, accessibility and usability.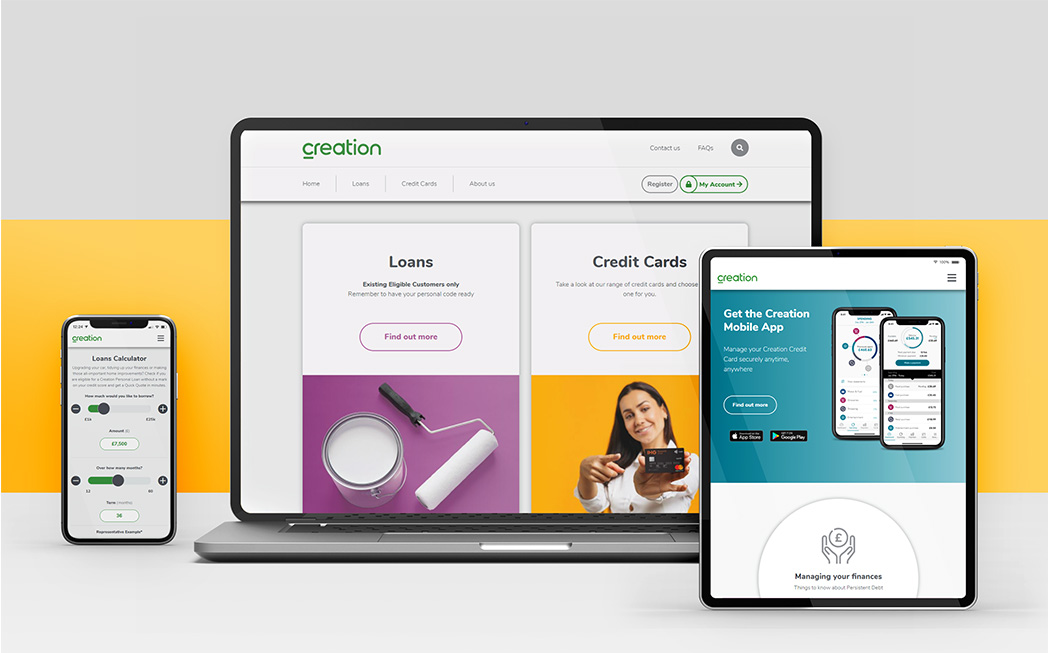 Haywyre – the web development partner
Over the years we have worked on a number partner websites in the group's portfolio including sites for EDF Energy Loans and Argos Loans. We developed features and functionality that make it easy for people to manage and track their finances and get loan estimates quickly.
In August 2020, we implemented a major overhaul of the Creation website. We improved the design and user experience. The resulting website is fully accesible on mobile. tablet and desktop. This enables the website users to find the infomation they need more easily. Creation customers are also able to find the financial support they need to get them through this difficult time. They can use the site to apply for payment holidays and find out the latest information regarding their loans and credit card payments to Creation.
In March 2021 we implimented an overhaul of the BNP Paribas Personal Finance Business to Business website bnpparibas-pf.co.uk
We were at the cutting edge of online innovation when we developed an online loans repayment calculator for the Creation Website – before this was a standard feature of the big High Street banks' websites. The application had to be clear and simple for customers to use and understand.
Because we are constantly researching the latest data about online behaviours, and how people navigate and use websites, we are always able to pro-actively recommend design and development features for websites and applications backed by robust evidence.
It is important to BNP-PF to work with a website development partner who manages projects efficiently and maintains communication with key members of their team. We tick all the boxes through our use of high-quality project management and tracking software to maintain excellent communication with them. This ensures that key personnel always know the status of tasks as we continue to update, support and maintain the Creation website.
The Haywyre and BNP-PF web development partner relationship
Our advice and recommendations, based on the latest trends for online behaviour, have proved valuable to BNP Paribas Personal Finance. We have never failed to deliver their projects on time and within the agreed budget and our team members have in-depth knowledge of the company's products and service.
Peter, who worked with us for more than eight years, said: "I have found their work to be of a high standard and they keep up to date with the latest trends for online behaviour. I know that I will get a quick response to any questions whether I pick up the phone or send an email."
He added: "Haywyre consistently provide creative options for web updates and are equally happy to work alongside other external agencies to make the web content really come to life.
"By having regular conference calls and with extensive use of project management software, updates for all of the projects get progressed with the minimum of fuss.  Haywyre are super-responsive and prepared to go the extra mile to get things done in a timely manner."
Contact us to find out how we can help you move your business forward.